Squeeze Personal Alarm With LED Light
Item Number: IN06D
MOQ: 1000pcs
Certification: CE, RoHS
Packing: Double Blister Card
Test Videos:
IN06D: Squeeze Personal Alarm With LED Light working video.
Specifications:
1) Dimension: 75 x 40 x 12 mm;
2) Main materials: ABS plastic;
3) Battery: 3 x LR44 (AG13) included;
4) 120dB sound level;
Description:
The Squeeze Mini Personal Alarm with Clip is very different from other personal alarm, as it is not pin activation one. You just need to squeeze the unit on both sides to activate alarm.
It has a very sleek and compact design. This easily activated alarm will emit an ear piercing 120dB alert that will send your aggressor fleeing for the confines of a sound proof room. You can deactivate this alarm just as easily as you activated it, with the click of a perfectly located button. This alarm fits easily in your pocket, purse, can be clipped onto your belt, or attached to a key chain. Anyway you chose to carry it, it will be nothing but beneficial to your safety.
For added security, the end cap of the Alarm features a bright white LED flashlight, which can be used to illuminate darkened doorways, car key slots, or to help you find your way in a power outage. The built in flashlight can be used when alarm is not armed. It activates and remains on by pressing the control button on front of the alarm.
More Information
Using as a personal alarm:
To trigger the personal alarm, simply squeeze the unit on both sides. The 120 dB alarm will sound.
To stop the alarm, press the light switch button on the front cover.
The mini personal alarm fits easily into your pocket, purse, suitcase, or backpack. Clip it on your arm or wrist, or make it your keychain.
Using as a light:
The light can be activated by pressing the light switch button on the front cover of the unit and holding it down. To turn the light off simply let go of the button.
Packing:
Its package is double bliser card or color box.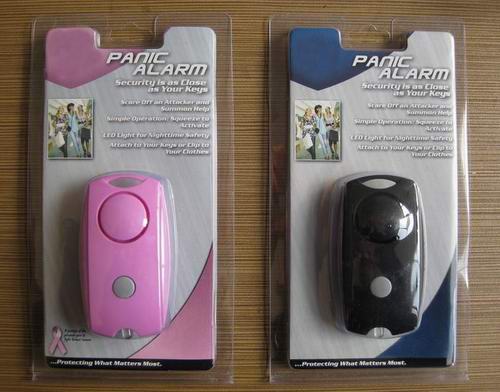 Warning:
At close range the siren may cause ear damage. Keep away from children and pets.
Features:
1) New style - Squeeze the unit on both sides to activate alarm;
2) Clip-on attachment & built-in keychain attachment;
3) Especially with a LED light;
4) 120 decibel alarm;
5) High quality, looks cute and lovely;
6) Suitable for joggers, women, child, elderly, disabled, night shift workers, alone people.