Panic Attack Alarm - Personal Alarm with LED Light
Item Number: IN06B
MOQ: 1000pcs
Certification: CE, RoHS
Packing: Box, Blister Card
Test Videos:
IN06B: Personal alarm with LED light working video.
Specifications:
1) Size: 71 x 59 x 35 mm;
2) Main materials: ABS plastic, PCB, electronic components;
3) 9V battery not included;
Description:
This Personal Alarm not only can emit an ear-piercing 130 dB siren, it is also fitted with a high intensity LED that can produce a flashing light , so It can also used as an independent LED Light function when the side button is pressed.
Features:
1) Pull the metal pin to activate alarm;
2) Especially with a LED light;
3) 130 decibel alarm can be heard up to 100 meters away;
4) High quality, looks cute and lovely;
5) Can be attached to the wrist and your bag/luggage, or used in the home on the door handle and a fixed fitting.
6) Suitable for joggers, women, child, elderly, disabled, night shift workers, alone people.
Battery Installation:
1. Remove the two fastening screws on the back of the unit to access the battery compartment.
2. Attach a 9v alkaline battery (not included) to the connector and place it in the compartment.
3. Refit the back of the unit and replace the screws.
Operation:
To trigger the personal alarm simply pull the rip cord. To stop the alarm replaces the pin.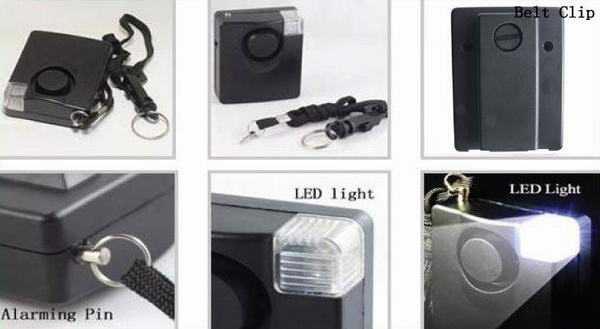 Warning:
The high output siren fitted to this quality personal alarm may cause ear damage if used at close range for a prolonged period of time. Keep away from children and pets! This product is designed to be used as a Personal Attack Deterrent.
Door & Window Alarm
The Personal Alarm has a door & window alarm accessory, so it can be also used as a Door Alarm or Window Alarm.

Take off the tiny sleeve from the metal clip.
Simply insert the metal clip into the crack in a door or window, when someone is opening the door or window, the clip will spring out, so the alarm will go off.
When you don't use the door alarm accessory, please take on the sleeve back to the clip.