130dB Key Chain Personal Alarm with LED Light
Item Number: IN06F
MOQ: 2000pcs
Certification: CE, RoHS
Packing: Double Blister Card
Test Videos:
IN06F: 130dB Key Chain Personal Alarm with LED Light working video.
Specifications:
1) Dimension: 70 x 35 x 19 mm;
2) Main materials: ABS plastic;
3) Battery: 1 x 12V included;
4) 130dB sound level.
Description:
A person is most likely to be attacked at night while walking to or from their home or car. This compact alarm conveniently attaches to your keys so you can be ready in a moment's notice to sound the 130dB alarm to scare off an attacker and summon help. For added security and convenience, the Key Chain Alarm has a built-in LED flashlight.
Operation: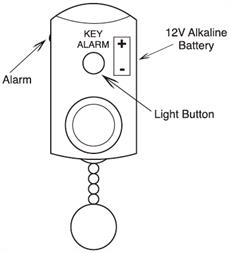 Alarm Operation:
To activate the alarm, simply press the RED button on the side of the unit. A partial press sounds the alarm until the button is released. A full press will sound the alarm until the button is pressed again.
Led Light Operation:
To activate the LED light, press the WHITE button located on the front of the unit. The light will turn off when the button is released.
Battery:
A 12V alkaline battery (#23A) is included with this device. When the light or alarm is noticeably weaker, the battery will need to be replaced. Use a small screw driver to remove the cover on the back of the unit and replace the battery following the polarity diagram.
Features:
1) Ear-piercing 130dB alarm;
2) LED light for nightime safety;
3) Attaches to your keys for easy access;
4) Press button to turn on/off;
5) High quality, looks cute and lovely.