Super Door Stop Alarm - Door Alarm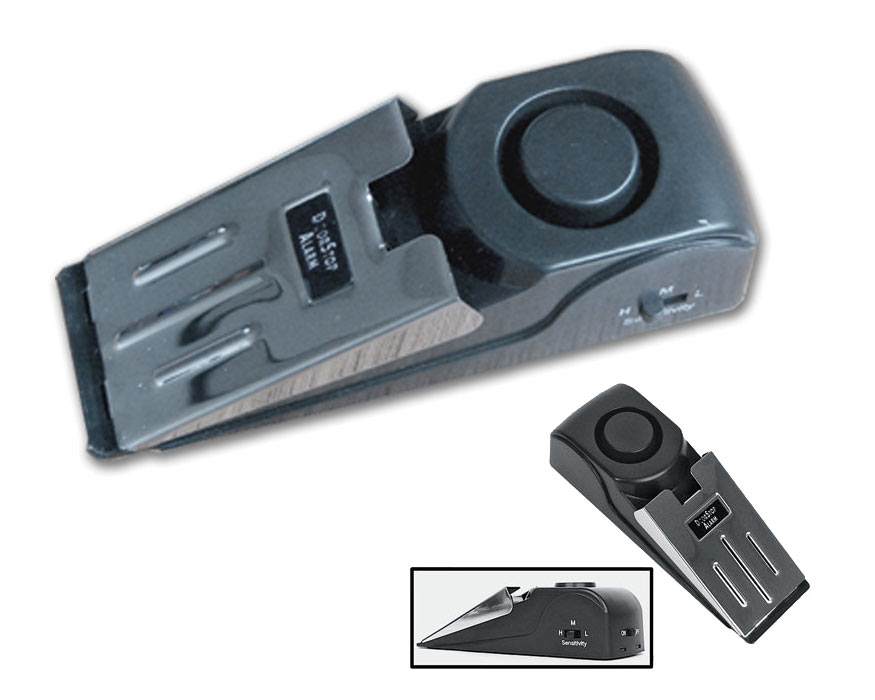 Item Number: IN03E
MOQ: 2000pcs
Certification: CE & RoHS
Packing: Blister Card
Specifications:
1) Dimensions: 138 x 46 x 40 mm;
2) Main materials: ABS plastic;
3) Battery: 9V battery(not included);
4) 120dB sound level within 1m;
Description:
Securing rooms from unauthorized entry couldn't be easier. The Personal Security Door Stop Alarm requires no wires or complicated installation and is powered by 2 AA battery (not included). Simply place the pressure-sensitive Door Stop Alarm at the base of any door, and the device will emit a powerful 120-decibel alarm when the door is opened. The Door Stop Alarm is extremely compact, so it's convenient enough to take anywhere. With this handy gadget, you'll be able to secure your hotel room, dorm room, apartment, or any room in your home.
The Super Door Stop Alarm is also equipped with a movement sensor which will activate the alarm if the unit is moved. A sensitivity switch allows you to adjust the amount of movement required to set off the door stop alarm. When traveling, just toss this lightweight unit in your luggage. Simply place the alarm behind any door. If an intruder attempts to open the door, the wedge-shaped design of the unit will prevent it from opening and activate a 120 dB alarm, which will scare off the intruder and alert you to the attempted entry.
Features:
1) The sensitivity can be adjusted at Low-Middle-High;
2) Prevents a door from opening and immediately activates an alarm;
3) Wedge shaped design prevents an intruder from entering your home or hotel room;
4) The 120db alarm will scare away an intruder, alert those inside, and summon help;
5) Portable door security for your peace of mind while traveling;
6) No installation required;
7) On/Off switch to toggle activation.