Popular Siren Padlock - Popular Alarm Padlock
Item Number: IN12B
MOQ: 500pcs
Packing: Blister Card
Delivery Time: 25 days
Test Videos:
IN12B: Siren Alarm Padlock test video.
Specification
1) Size: 9.5(H) x 9.3(W) x 3(D)cm, Shackle diameter: 9mm;
2) Main materials: Zinc alloy body, chrome finish;
3) 6 button batteries (AG13 included), battery life: 6 months;
Description: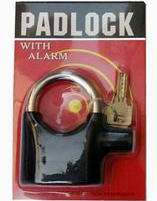 Simple, low-price and effective security for sheds, garages, bikes, side gates and tool boxes. This Alarm Siren Padlock will sound a 100 dB alarm for a full 10 seconds whenever it's disturbed – much more effective than an ordinary lock. Basically, double the protection. The Heavy Duty Siren Alarm Padlock has a body made of extra strong cast steel as well as a high-grade steel shackle.
By combining a strong padlock with a powerful alarm the Siren Padlock Alarm is suitable for hundreds of security applications allowing the user to protect items that previously would have been difficult to alarm such as: Lawn Mowers - BBQ Equipment - Tool Boxes - Garden Ornaments " Furniture - Side Gates - Motor Bikes - Trailers and Caravans as well as machinery - Shed and Garage Doors.
Features:
1) Corrosion Resistant with hardened Zinc Alloy body ;
2) Suitable for all weather conditions ;
3) Alarm resets automatically;
4) Batteries sealed in tamper-proof compartment which can only be accessed when lock is open;
5) Two settings - active alarm and inactive alarm;
6) 3 High-security cut keys;