PIR Motion Alarm with Keypad - Motion Detector with Keypad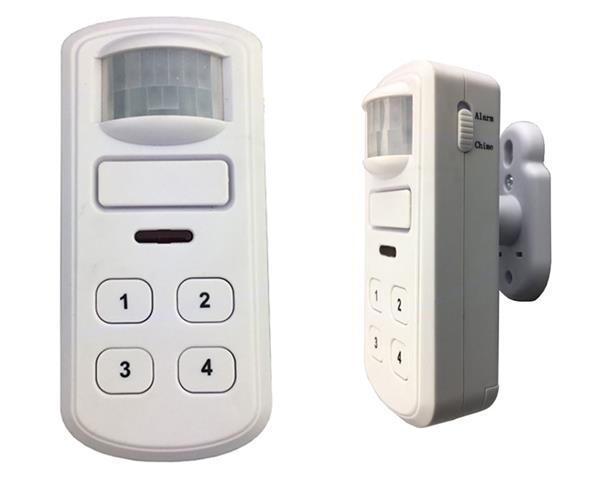 Item Number: IN02A
MOQ: 1000pcs
Packing: Colour Box
Delivery Time: 20 days
Specifications:
1) Size: 13.8 x 6.4 x 3.4/4.1 cm;
2) Main materials: ABS plastic;
3) Battery: 3 x AAA;
4) 120dB sound level;
Test Video:
IN02A: PIR Motion Alarm with Keypad working video.
Description:
This Alarm can either be wall mounted using the bracket supplied or used freestanding for portable use. It is operated using a 4-digit user access code with the keypad on the front of the alarm. The system has 2 operating modes: ALARM and CHIME.
The chime mode is a low security feature that will produce a door-chime sound when the alarm is triggered. In Alarm Mode the device will produce a constant high volume alarm sound when triggered.
Set Password:
The keypad allows you to set a personal 4-digit password for arming and disarming the alarm.
1. Each time when you re-install the battery, you need to reset the password.
2. Then the indicator LED light on the front of the alarm will blink for 15 seconds. During this time, input your 4-digit password. A beep will confirm each input. If the LED light stops flashing before the password is entered or the alarm does not produce the confirmation beep start the process again.
3. Replace the battery compartment cover and secure screw.
Features:
1) Small and simple use;
2) Alarm & Chime two models;
3) Password on Keypad to control;
4) With low price;
5) Reliable and useful;
6) No false alarm.